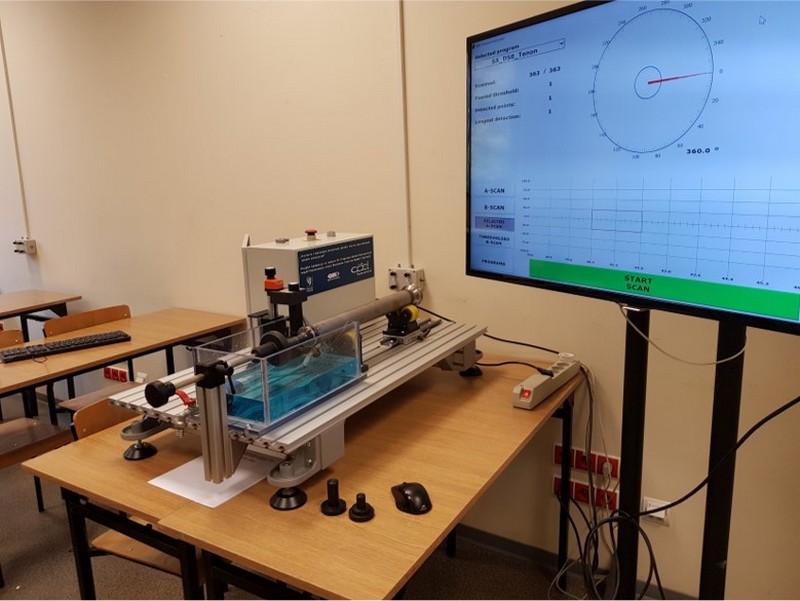 Product information
Category: opScanners
Hardware: opCard or opBox based Control Software with varied data process functions (SAFT and TGC(DAC));
Software: A-scan, B-scan, C-scan – 2D and 3D, PA, Pulse-Echo, TT, TOFD
Accessiories: A wide range of measuring ultrasonic probes and probe holders
Ultrasonic testing scanners
Our scanners are controlled by our software for make the scan that covers the inspection area and to acquires the scan data, required in the customer application. Take advantage of one of our standard scanning solutions, or have us customize a scanning solution to fit your specific needs. We also offers several motor controllers for scanners, depending on the equipment used in the application.
Ultrasonic testing scanners provide more accurate and efficient scanning. Our scanners are aided by standard software and data acquisition system (opBox or opCard) for control of the scan to cover the inspection area and to acquire the scan data. From corrosion mapping, weld inspections (Pulse-Echo, TOFD, SAFT), to the most demanding ultrasonic signal postprocessing implementation. Use our standard or have us create sophisticated scanning solution dedicated for your needs. Ultrasonic scanner for industry and laboratory application as well as a special type of scanners.
Pipe Circumferential Weld
Thin-Walled Tubular Components
X Y Z, Alfa, Beta Scnanners
Internal inspection of tubes
Scanners for medical application
Ultrasonic testing scanners
Elimination of harmful mechanical vibrations and electrical noise allows to obtain high quality measurements with high frequency ultrasound and low signal strength.
Vibration free
Body and drive of scanner are designed in a way that reduces any vibrations that might affect the ultrasonic measurement; ie. elastic belts and grinded precise rails, stepper motors with high gear ratio and microsteps are used
Ultrasonic measurement
From immersion, air or contact systems and large-scale scanners, to single or multi channel systems
Ultrasonic data acquisition systems based on opCard or opBox with opMux
Best system for signal acquisition
Our own designed defectoscopes family covers all needs for data and signal processing
Standard accessories
A wide range of measuring ultrasonic probes
A wide range of probe holders
Our software using GPU Accelerated Computing with nVidia
Real-time data acqisitions and visializations
Data processing: real-time, Absolute, Peak-detector
Visualizations: A-scan, B-scan, C-scan (2D and 3D), SAFT, etc.
Ultrasonic measurement
Any ultrasonic measurement techniq can be use.